Comerica Center Policies
There are two ATMs located in Comerica Center. One is located outside the northwest entry and the other is located on the southeast corner of the concourse by concessions.
ALL EVENTS:
Bags and purses will not be permitted. Wallet-size clutches no larger than 5.5" x 8.5" will be permitted. Medical bags and parenting bags are also permitted. All permitted bags are subject to security inspection.
APPROVED BAGS INCLUDE:
Clear bags no larger than 14" x 14" x 6"
Wallet-size clutches no larger than 5.5" x 8.5"
Parenting bags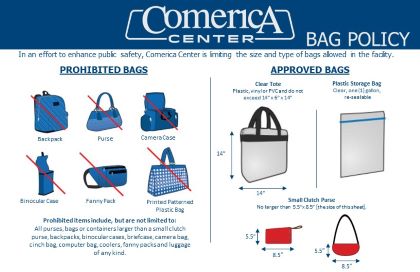 Spectators are not permitted to use or wave flags, banners, signs or other items that are affixed to any pole or stick made of wood, metal, plastic or any other hard material, and that is more than 11 by 17 inches in size.
From concerts and theatrical performances to family shows and sporting events, Comerica Center is capable of hosting a wide variety of live entertainment. For more information on booking with Comerica Center please email [email protected]
Restrictions on the use of still cameras vary by event. The event producer determines this policy. Professional cameras (cameras that have a lens 4 or 6 inches in length) are not allowed in Comerica Center unless accompanied by proper media credentials. Audio and video cameras are strictly prohibited at all events at Comerica Center.
A courtesy phone for guests is located in the lobby at Guest Services.
Drones of any kind, regardless of size, are not permitted.
Elevators are located in the north lobby, near the escalator.
For suite access, there is an elevator in south west corner on the concourse level.
Entrances are located on the northwest and northeast corners of the building.
Event Cancellations/ Ticket Refunds
If the event was ticketed and you purchased from Ticketmaster or our Box Office, you are covered! No additional action is needed and you won't need to reach out to us.
You will be notified via email that the event is canceled. You can also check the status of the event on our Event Calendar or our COVID-19 page.

Your refund is automatically delivered (except UPS fees) to the same card used for purchase.

Due to the unprecedented volume of cancellations, please note that you should expect to receive your refund in as soon as 30 days. If the tickets were transferred to you, the refund will go to the person who originally bought the tickets from Ticketmaster.

There are two family restrooms located on the concourse level. One is on the southwest corner, and the other is on the southeast corner (behind sections 110 and 116).
Attendees are not permitted to enter Comerica Center with outside food or beverage of any kind. Comerica Center security reserves the right to inspect any package or container coming into the arena.
First aid is located in the lobby near Guest Services.
Guest services is located on the first floor in the lobby by the skate desk rental and the escalator.
During an event all found items will be taken to Guest Services. To claim a lost article, visit Guest Services or call at 214-975-0972.
For safety reasons, patrons may be refused entry if they are in possession of prohibited items including, but not limited to: recording devices (audio/visual), whistles, horns, frisbees, strollers, mace/pepper spray, missile-like objects (that can be thrown), professional cameras, laser pointers, beverages, tripods, selfie sticks, hard-sided backpacks, fireworks, optical illusions, beach balls, monopads, weapons (including guns and knives of all sizes, any type), illegal substances, e-cigarettes, vape pens, aerosol cans, poles, bat & clubs, GoPro devices, glass/plastic/metal containers, coolers, baby seats or carriers, unauthorized noise makers, glitter, confetti, streamers, helium balloons, parcels or packages, inflatables, or large bags of any kind. Guest is responsible for discarding prohibited item or it must be return to their vehicle.
There is a strict no smoking policy at Comerica Center. Smoking is only allowed in designated areas outside the facility, accessible via the Lobby on the ground floor. E-cigarettes are also prohibited inside the building.