COVID-19 Guest Information
GUEST SAFETY GUIDELINES
The well being of our guests, staff and performers will continue to be our top priority. Comerica Center will continue to monitor guidelines set forth by the CDC and local public safety and public health officials.
In order to minimize contact during security screening, Comerica Center has also adopted a clear bag policy. A list of acceptable bags can be found below.
Guests should enter through the main lobby doors located next to the box office.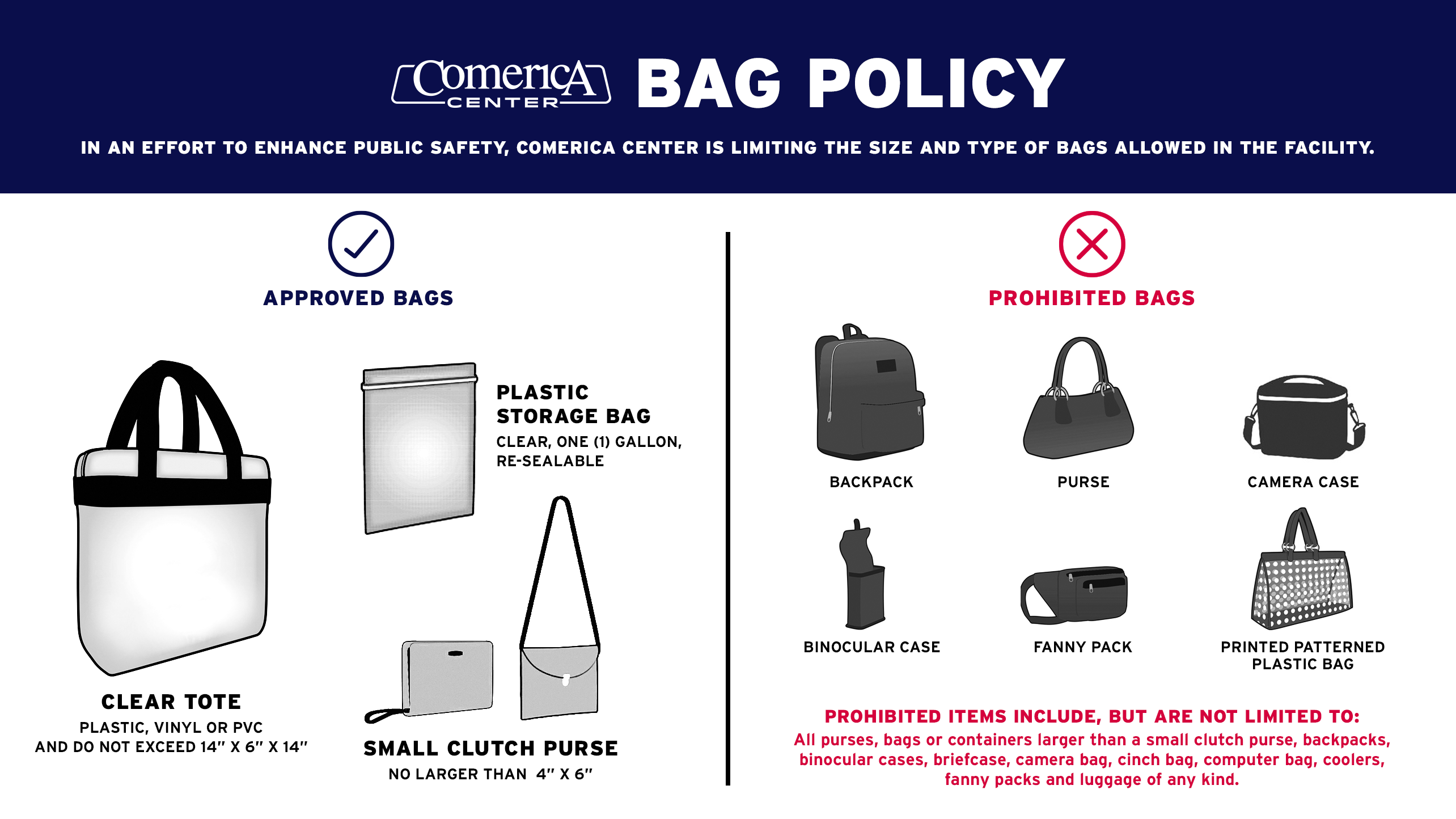 A clear bag and small clutch policy will be in effect for all events at Comerica Center to minimize contact during security screening. Comerica Center encourages guests to avoid bringing bags if possible.
APPROVED BAGS INCLUDE:
Clear bags no larger than 14" x 14" x 6"
Wallet-size clutches no larger than 4" x 6"
Parenting bags
Food & beverage operations will maintain the highest standards of compliance with current health and safety regulations.
Cashless transactions are highly encouraged to minimize contact
Condiments, utensils, and straws will be provided in individual packets upon request
All contact surfaces will be cleaned in between guest transactions
All parking transactions are credit card & debit card only.
All staff must have temperature taken when arriving at work and be fever and symptom-free. Staff are required to wear face masks at all times while at Comerica Center other than while actively eating and drinking on break.
COVID-19 WARNING
An inherent risk of exposure to COVID-19 exists in any place where people gather. COVID-19 is an extremely contagious disease that can lead to severe illness and death. By attending any event at Comerica Center, you assume all risks, hazards, and dangers arising from or relating in any way to the risk of contracting COVID-19 or any other communicable disease or illness, or a bacteria, virus, or other pathogens capable of causing a communicable disease or illness, whether occurring before, during, or after the event, however, caused or contracted, and voluntarily waive all claims and potential claims against Comerica Center, DSE Hockey Club, DSE Hockey Centers, event promoters, vendors, and their affiliated companies, and any of their respective present and future subsidiaries, affiliates, partners, members, officers, directors, employees, stakeholders, shareholders, agents, other representatives, successors and assigns event promoters, vendors, and their affiliated companies relating to such risks.